OPTIMAL RESULTS THROUGH AUTOMATION
Fast, reliable and consistent
Benefit from our expertise in the areas of prepress, work preparation and reproduction. Using the latest software and hardware from Esko, Hybrid and Apple as well as platesetting in a lean workflow, we combine creativity with efficiency.
A highly modern color laboratory further guarantees our flexibility and enables us to produce any color under the control of ultra precise measuring instruments in the shortest possible time.
Consistent with our company philosophy, the printing presses at Cosack are always kept at the state of the art. Currently these are two HEIDELBERG-XL-106 machines – high tech systems that set the standard for offset printing and employ the best mechanical and electronic components. To ensure our print quality is always of the highest standard, "Inpress Control" supports the printer with fully automatic control of the color and register.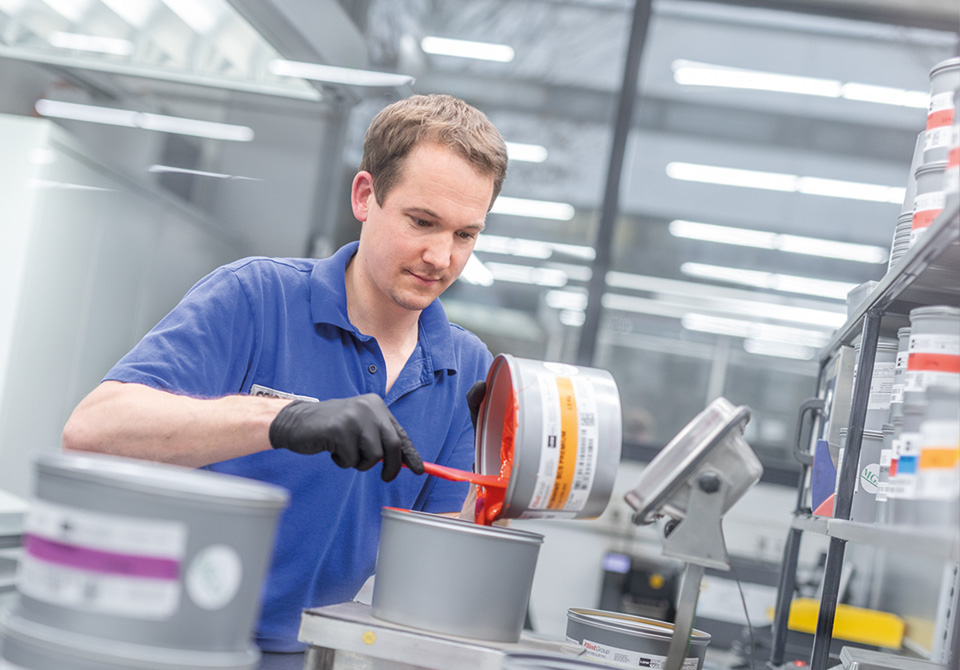 We take care of it
for you.
Always on the cutting edge
With its four stamping machines from the global market leader Bobst, our stamping department can meet the most stringent requirements. Our machinery carries out even the most difficult jobs with precision, faultlessly, and with the efficiency the market demands.
Custom and creative packaging solutions are easy to implement thanks to the numerous processing options in the gluing machine area. Whether it be longitudinal seams, folded-bottom gluing, 4- or 6-point gluing or special purpose adhesives – with our three high performance Bobst production lines in the gluing department we have a wide range of options at our disposal to offer you a suitable solution. Even glued window or paper inserts are no problem for us.
With our highly automated logistics as well as variable storage capacity for raw materials and finished goods combined with a highly capable freight service provider, we can guarantee individualized service and maximum flexibility.
Digitalization and Industry 4.0 are concepts we put into practice every day. Our fully integrated ERP system from a market leading international IT supplier links all the key logistic and manufacturing units into a single dynamic workflow and provides a digital foundation for the continuous improvement of our effectiveness, efficiency and service.
Optimal results
through optimal processes.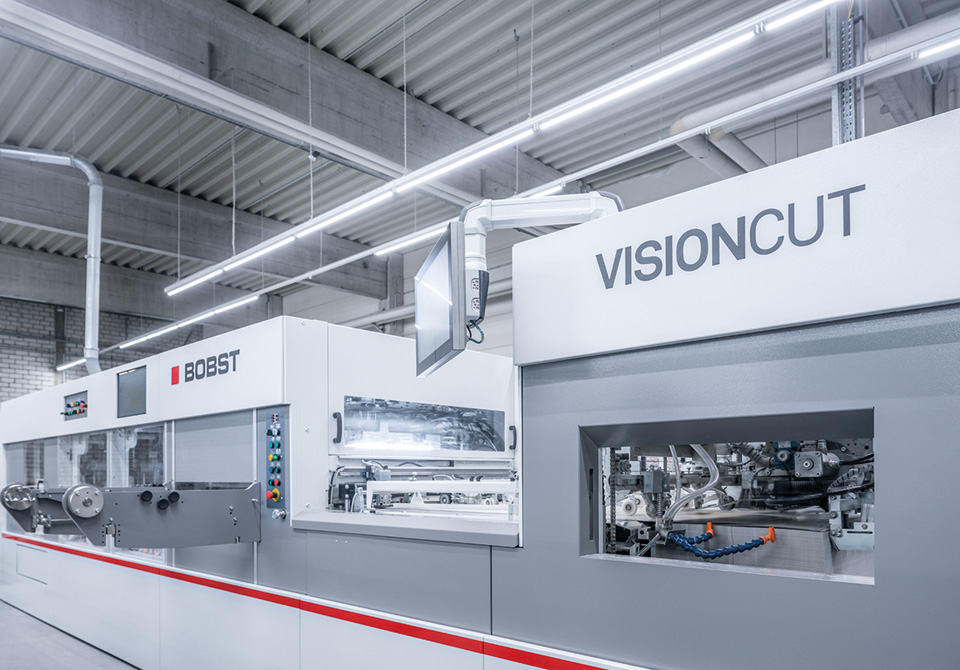 In 6 steps from the idea to the packaging solution – we
offer all the core competencies under one roof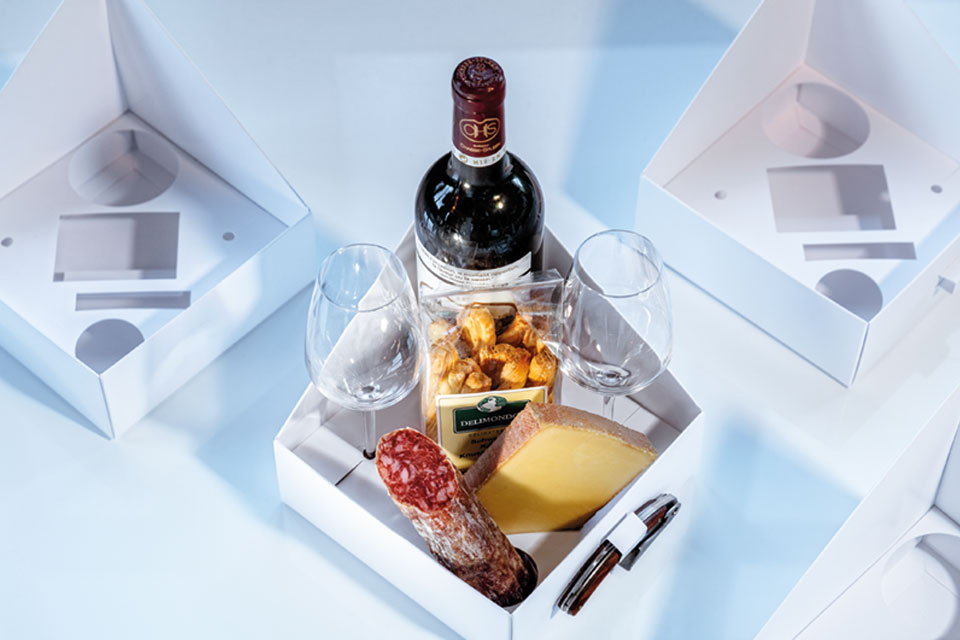 Packaging development
Whether complete packaging or solutions to details – the packaging development department at Cosack will always find a way.
Environmentally friendly cardboard, a perfect interior, and consistent handling combined with minimal material usage – these are complex tasks which our packaging development team solve with creativity and sound technical know-how.
Folding boxes are a challenging marketing tool to develop, and creative ideas are required to give every packaging item its unique desired profile.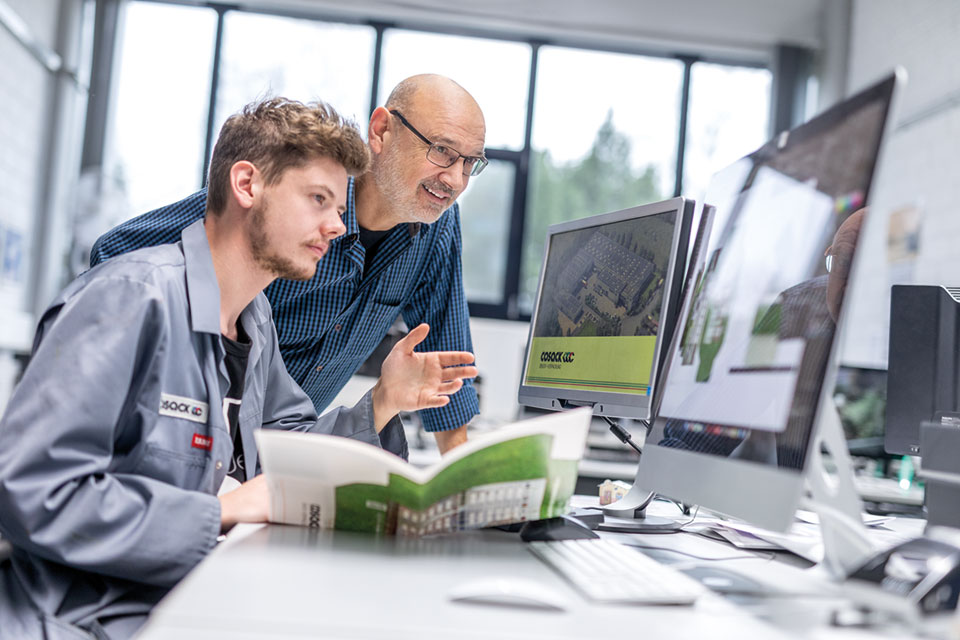 Prepress
Benefit from our wide-ranging prepress options thanks to a digital prepress workflow. This applies not only to the creation of true-color proofs using the GMG color proof system, but also to the preparation of printing plates using the Prinergy workflow software and the computer-to-plate process.
Our prepress equipment including modern Apple Macintosh workstations for reproduction and creation of the sheet structure, fully automatic imagesetters (capable of exposing 33 printing plates per hour), and our use of the Art Pro and Packz software for packaging reproduction enable us to fulfill our customer's needs with the highest level of efficiency. To this end, we have also expanded our prepress team to seven qualified employees to enable us to ensure a competent implementation of our customer's wishes.
Our production area was successfully certified to the offset process standard ISO 12647-2 in March 2016, which enables us to guarantee a standardized and consistent production.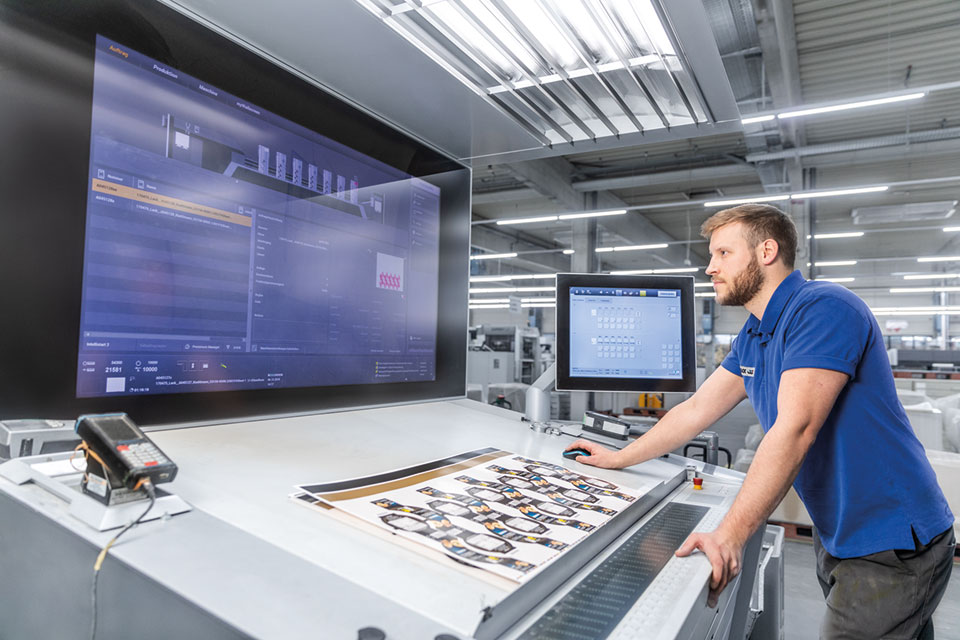 Printing
Consistent with our company philosophy, our printing presses are always kept at the state of the art.
Our high tech systems based on the latest mechanical design concepts, and our implementation of state-of-the-art electronics set the tone in our offset area. Six-color printing presses with integrated lacquer units and the latest automation components ensure a consistently excellent print quality.
In addition, we also have both an inline Inpress Control color measurement system for fully automated control and measurement of color and register while the press is running and during the entire printing process, and certification to the offset process standard ISO 12647-2. Thanks to the logistics system fully integrated into the printing press, it is also possible to automatically change the pallets during the printing process with no interruptions. This ensures the printing process runs smoothly at all times.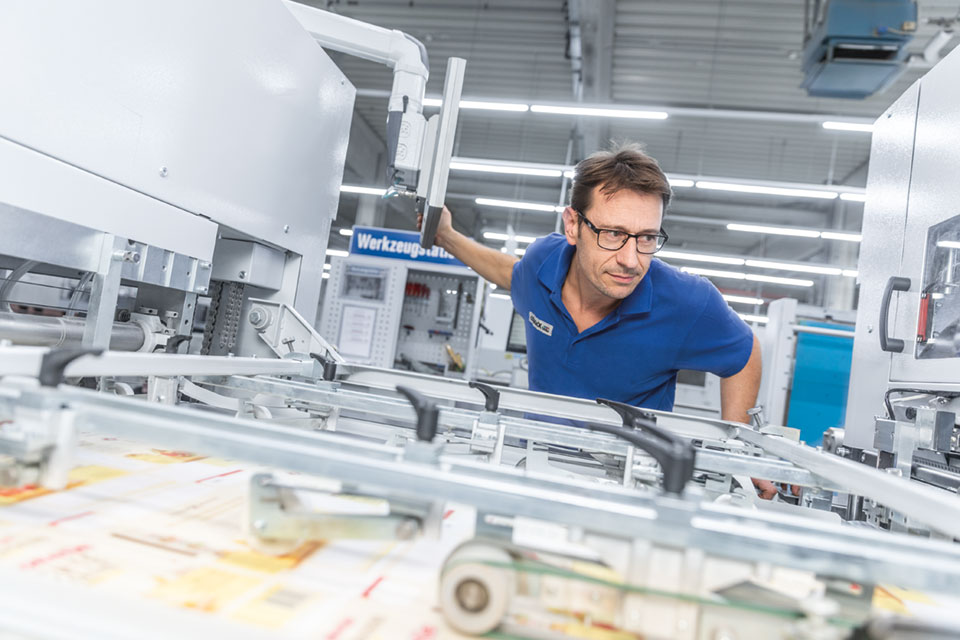 Stamping
The stamping department uses state-of-the-art technology. We carry out even the most difficult jobs with precision, without a hitch, and with the efficiency the market demands.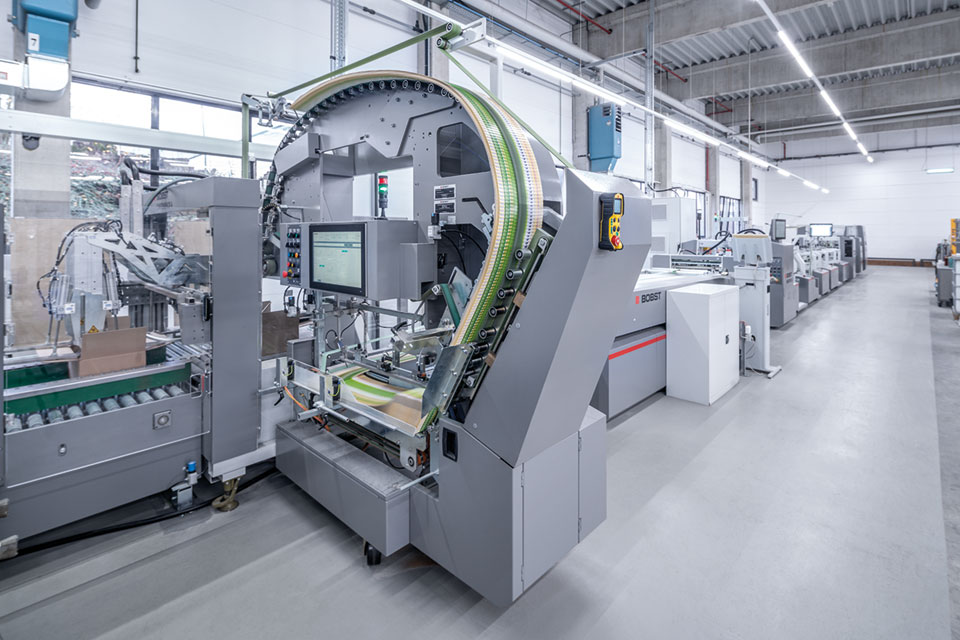 Bonding
The numerous processing options in our gluing machine area enable us to offer individualized, creative packaging solutions. Whether it be longitudinal seams, folded-bottom gluing, 4- or 6-point gluing or special purpose adhesives: Thanks to our 3 modern and high performance gluing machines, we can offer you a wide range of different adhesive techniques.
This includes glued window inserts, optionally with a flexible bending edge and glued paper backing – precise, fast and efficient through the use of the latest technologies.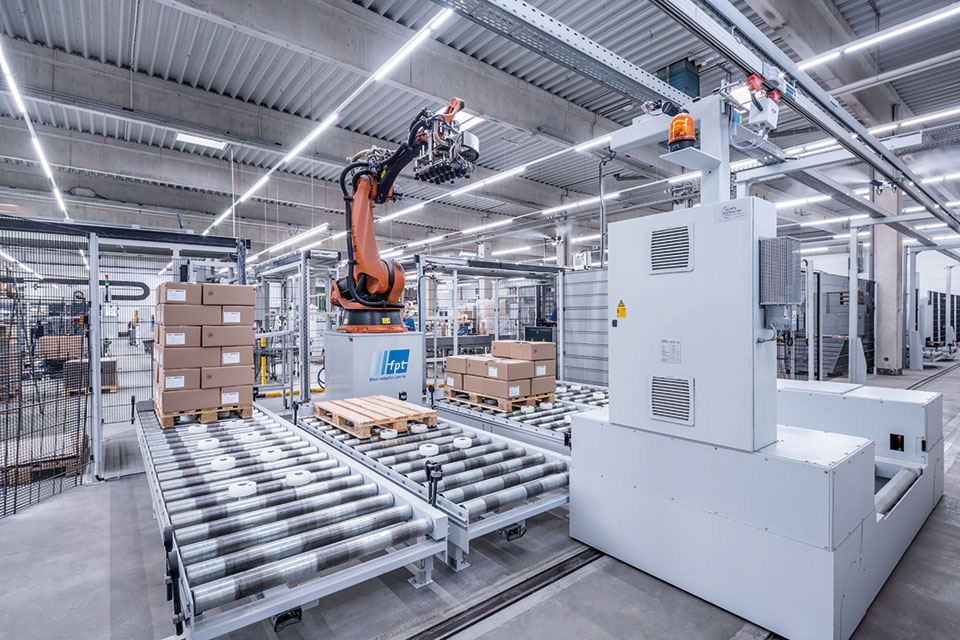 Logistics
With adequate storage capacity for raw materials, semi-finished goods, and finished goods and inventory management in a modern EDP system, we are able to provide the required service and have the necessary flexibility in our logistics processes.
Everything runs like clockwork here – you can count on that